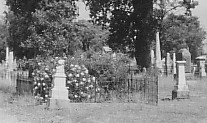 Gena and Jean discuss the impact of the California Gold Rush on the state of California and the rest of the country. The first half includes reflections of personal visits to the region and the second half (Premium subscription required) details more of the people and events surrounding the region and its settlement. To access the longer version, return to the genjourneys Podbean index and click on the same podcast - 45 - but the one marked "Premium." Instructions for membership are provided there. A premium subscription costs $20 and lasts 12 months from the date begun. It allows the subscriber to access previously recorded premium podcasts as well as the ones posted during the 1-year subscription period.
To access the resources used in the preparation of this program, please refer to the Genealogy Journeys blog for this date, 28 January 2018, at http://genaandjean.blogspot.com. 
Photo here is of the Columbia Cemetery, copyright 1993 by Jean Hibben (Columbia is located on the E18 Hwy off State Rte 49, near Sonora).