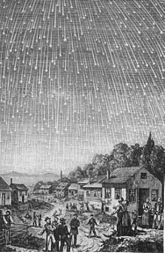 To remember the 48th anniversary of the 1969 moon walk, Gena and Jean discuss the moon, how it was important to our ancestors, and how it was viewed by different civilizations. In the second half, they go deeper into the cosmos in discussing some of the folklore but also historical, astronimical events - in particular, the 1833 Leonid meteor shower: "The night the sky fell."
The image here is a copy of a woodcut of an artist's perception of the event and obtained from https://en.wikipedia.org/wiki/Leonids; information on and links for resources used to compile the material provided in the podcast can be accessed at the blogpost for 30 July 2017 at http://genaandjean.blogspot.com. 
This is the first of our premium subscription podcasts. The first half of the podcast can still be accessed for free, but to hear both parts of the programs, a $20/year subscription is required. Follow the instructions given here at Podbean to put your subscription in motion (all major credit cards accepted). Thank you for your interest.